May 23, 2013
Be a Part Of What's Hot This Summer!
Be a part of WHAT'S HOT THIS SUMMER with the Pacific Sun's annual SUMMER FESTIVALS edition on newsstands May 24th. Featuring a round up of Marin County's sizzling events of the summer, from 4th of July parades to the Twilight Criterium to the San Anselmo Art & Wine Festival.... this special edition is a true resource guide for our local community.
SUMMER FESTIVALS also includes the Pacific Sun's annual foodie magazine, Marinivore - A Guide to Eating Local, Healthy and Organic with topics covering everything local, organic and sustainable, as well as extensive restaurant and farming directories that is a PERFECT resource guide for the local community when making decisions on where to dine.
Space Reservation deadline is Friday, May 17th.
Reserve your space today with Katarina Martin at the Pacific Sun at 415-485-6700 ext. 311 or kmartin@pacificsun.com.
PACIFIC SUN - Marin's BEST Every Week
Katarina Martin - Marketing Consultant
(415) 485-6700 x. 311 (707) 287-3326 - cell www.PacificSun.com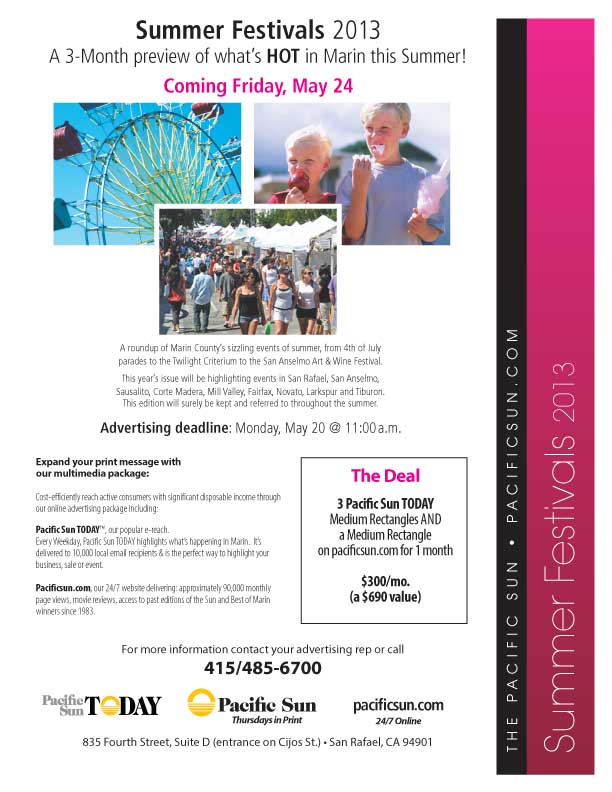 Top ▲
---
Plan for San Anselmo's New Park
The San Anselmo Community Foundation (SACF) is pleased to announce the construction of our downtown San Anselmo park is underway and we want to send a tremendous thank Mr. George W. Lucas for his generosity.
As a partner in this collaboration, the SACF has committed to raise an additional $150,000.00 to complete the building of the park including the permanent installation of the Star Wars creator's original statues, two of his most well known characters; the only life-sized bronze statue of Indiana Jones and one of the few original Yoda statues commissioned by George Lucas and crafted by sculptor Lawrence Noble.
The SACF is excited to partner with you on this exciting endeavor to not only provide a much needed community gathering spot for residents and visitors of San Anselmo, but also a unique opportunity for our children and their families to experience being "up close and personal" with these iconic characters. With you help we will insure:
A downtown community venue for schools, businesses, and non-profits to hold community events

A place for the library to hold outdoor book readings

A place for children to have outdoor art classes

A local community gathering place

A San Anselmo identity

Increased property values

Increased foot traffic benefiting struggling downtown business

Increased tax revenues from businesses near a community park

Create a Bay Area landmark and build heritage
Will you join with us?

The SACF is grateful for your support of this community-wide effort. The park will become the unique and permanent home for two of the most well-known and widely loved film characters of our time.
"The San Anselmo Community Foundation mission is to support and advance the educational, cultural, and economic interest of the San Anselmo Community."
501(c)(3) Charitable Foundation | Tax ID 31-1742764
Sincerely,

San Anselmo Community Foundation
415.454.2510 | P.O. Box 2844 | San Anselmo, CA 94979-2844
Please like us on Facebook: San Anselmo Downtown Park and follow the progress:
https://www.facebook.com/SanAnselmoDowntownPark?fref=ts
Get the latest news at: www.sananselmopark.org
Top ▲
---
Training for Nonprofit Development
Thursday, May 30 from 9am to 5pm & Friday, May 31, 9am to 1pm
Open to all individuals who have an interest in developing a social enterprise; not just to nonprofit agencies. Maximum enrollment will be 20. Cost is $100 per person; a fraction of what a similar national training charges ($1500).
Renaissance Marin's café.
Refreshments will be served.
RSVP at:www.http://events.r20.constantcontact.com/register/event?oeidk=a07e7by9kl0912a1a7e&llr=fqryb5aab
For your attendance, this event will also serve as an orientation and a great first-hand look at the practical application of our Social Enterprise training. As we learned from many of you, doing a short, intense training was the preferred method over our original 8-week, once-a-week sessions.
The evolution of nonprofit development!
Renaissance Marin Entrepreneurship
1115 3rd Street San Rafael, CA 94901 USA
(415) 755-1115 | F: (415) 258-9038 www.rencentermarin.org
Top ▲